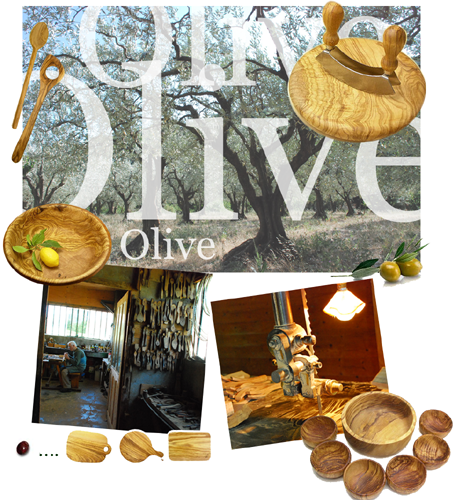 Olive Wood Products (Cutting boards/Chopping boards, Bowls, Dishes, Utensils...)
We stock a variety of kitchenware made of olive wood in Provence. The Q natural shades and beautiful grain of the olive wood gives this kitchenware a warm, homely look and feel. Add a touch of Provence to your kitchen with these beautiful items.

The Olive tree produces a dense wood that is hard, heavy and strong making it perfect for kitchenware and utensils due it's durability. It's use in France has a long history and in the many flea markets and antique shops that line the streets of the towns and villages of Southern France you can find olive wood kitchenware looking even better with age as the shade deepens over the decades.

Each product is hand crafted by a skilled artisan. The high density and cross grain of the wood can make it the manufacturing process more difficult. Each item is unique due to the differences in structure and texture of the wood meaning no two turn out the same. Over time these products change appearance as the wood ages becoming that favorite spoon or bowl that is familiar and feels like home.

Please check back as we will be adding more high quality Olive wood products when we find goods that meet our high standards.

<<Instructions for taking care of your Olive wood products>>

It's recommended to rub a small amount of olive oil or sunflower oil on the wood from time to time, or when you notice the color and shine begin to fade. It prevents cracking and maintains the beautiful, smooth grain of the wood.



Make sure to always hand wash them with a mild dish washing soap. (It's best not to put them in the dishwasher or leave them to soak in water.)



After washing, dry completely.



Rub a small amount of olive oil or sunflower oil on the wood occasionally.